BUY AN AUTOGRAPHED HARDCOVER OF 'TWO WHEELS THROUGH TERROR'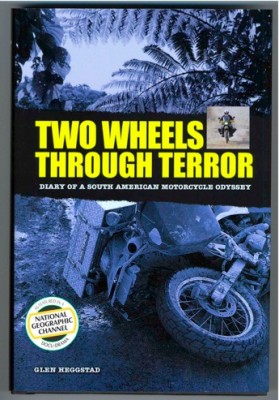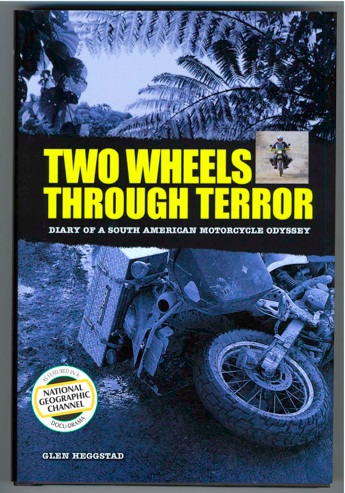 THE BOOK THAT HAS BEEN MADE INTO AN AWARD WINNING DOCUMENTARY FEATURED ON THE NATIONAL GEOGRAPHIC CHANNEL
Former outlaw biker and Martial Arts champion Glen Heggstad, is an adventure motorcyclist who seeks out and rides the most rugged places on the planet. He has been riding bikes most of his life, but no amount of training or experience was able to prepare him for what he became while riding to the southern tip of South America: a prisoner in a brutal civil.
This book is the shocking travelogue of Heggstad's journey, his capture by Colombia's rebel ELN army, and the eventual realization of a dream. Read about an ambitious motorcycle ride to the tip of Argentina and back to the US, made all the more amazing by an intermission at the hands of terrorists.
On the outskirts of Medellín, Heggstad is ripped from his motorcycle at gunpoint, robbed of everything, and forced to march through strange jungles with assault rifles in his back. He is fed only small amounts of rice and water and is forced to carry heavy equipment, heavy packs, and heavy doubts about his future. Even with all the hand-to-hand and sophisticated combat training Heggstad possessed, it was his shrewd thinking, precise planning, and a "do-or-die" last act of desperation that eventually secured his freedom.
But Glen does not accept his ticket home to sunny Southern California. Instead, after weeks of torture and mental torment, he decides to show his terrorist captors that they had not beaten him, and that their violent methods will never beat Americans. With the help of his heroic support team back home, Heggstad receives another motorcycle, and another chance at reaching his goal. Glen races, hoping to outlast his failing motorcycle, out-maneuver the pitfalls ahead, and outrun the psychological avalanche barrelling down behind him.
Glen Heggstad has spared no detail from this account. He has stated that writing this book and reliving his tragedies was as painful as suffering through them the first time. Read this first-hand account of an ambitious motorcycle journey that gets horribly, and violently, detoured.
HARDBOUND | 320 PAGES | COLOR PHOTOGRAPHS |