THE ADVENTURE BEGINS WHEN THINGS STOP GOING AS PLANNED!
It's true that every disaster in life can eventually become a springboard to the next level up. So after recuperating from time spent as a prisoner of Marxist rebels in Colombia's civil war, I managed to continue to Argentina and back to California– which was the best way to send a collective middle finger to terrorists worldwide…to simply keep riding.
The National Geographic Channel made a documentary about those events which led to creating the motivational show, EARTH RIDE! which details a world motorcycle odyssey launched from Los Angeles to Tokyo, and onto Vladivostok on the edge of the Russian Far East. That led to traversing Siberia with a detour through the Mongolian Gobi Desert and onto the Middle East, India, Southeast Asia and the homestretch in Africa; Cape Town to Sudan.
I left the US with a sincere determination to meet the inhabitants of our planet face to face, look them in the eye and shake their hand. The reaction was astonishing as the natives greeted me with hospitality and kindness in the most unexpected places. From breaking bread with the descendants of Genghis Khan, to Bedouins sharing their tents, people everywhere shouted at every stop—Welcome, Welcome! Everyday was a surprise. In spite of common misconceptions, as a species, we still like each other far more than is reported.
Far outside the comfort zone, life's stark realities soon confronted this lone traveler as the perils and pleasures along the way were consolidated into book form. Between dramatic photos and electrifying prose, readers will be able to feel every moment of a fifty-two thousand mile solo journey around the earth. Beware that it gets lonely out on the road so sometimes the adventure was spiced with spontaneous romance.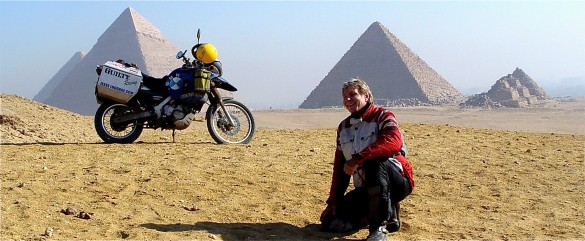 Consider this a personal invitation to meet the total strangers of a bewildered planet who have appeared to befriend me just when thinking my luck had expired. From Omo Valley, Ethiopia to Borneo, to witnessing the aftermath of the Tsunami in Banda Aceh, you will be able to gaze into the eyes of the nicest people on earth. Time and again, the truth surfaces–although governments don't get along, people do.